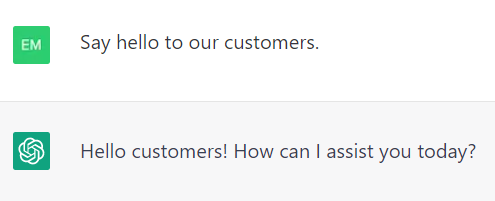 I am excited to announce that RocklandWeb will be integrating ChatGPT, the cutting-edge language model developed by OpenAI, into all of our digital business and audio-visual services, including our 15-year web services division. This integration will bring a new level of automation and efficiency to our capabilities (list below), while also providing a more personalized and engaging experience for our users.
Starting in late January 2023, I've instructed our entire team to start thinking of ways to use ChatGPT in ways that simply make life easier, while getting the same or better work done for our nearly 250 valued clients across the Hudson Valley. The responses we gathered from this research project was, to say the least…inspiring. That started a deeper conversation about what our new company direction (now including RocklandNews.com and RocklandShopping.com), and its customers – require of us in order to consider our work to be successful.
Let's face it. The world has changed. No longer can any singular knowledge-working human keep up with their communication and technical support requests, without assistance from a variety of tools that smooth the critical path of a project from start to finish. Multiple steps mean more margin for error. Something needed to change.
Consequently, it made logical sense to leverage the quantum leap natural language models that OpenAI offers, so that we can process the typical support requests we gather with exponential decrease in time allocations, per request.
In short, we get more stuff done – more effectively for our customers, and more efficiently for ourselves.
What is ChatGPT?
ChatGPT is a state-of-the-art language model that has been trained on a vast corpus of text data, allowing it to generate highly coherent and relevant responses to a wide range of topics. This makes ChatGPT the perfect tool for automating many of the tasks and interactions that are currently performed by humans.
How Will RocklandWeb Integrate ChatGPT?
We will be integrating ChatGPT into all of our services, including customer support, marketing, and product recommendations. This integration will allow us to automate many of the routine tasks that are currently performed by our team, freeing up time and resources for more important tasks.
Some of the services in which we will be employing ChatGPT are as follows:
Search: Research suitable keywords/keyphrases, titles and content summaries that assist our clients' search engine rankings
Social: Generation of more creative and engaging content that is relevant to our client's end users
News: Correction of incoming press releases and news items that require grammar or spelling modifications
Communications: Integration of natural language models that facilitate better rapport of customer support teams with clients, partners and prospective buyers
Project Management: We will be using natural language models to develop well-crafted text for typical tasks that require a variety of steps. Much like the recipe for a lasagna – if you know what you need to do, you can spend the rest of the time putting love into the final dish.
Web: Development of logic that works with all of our most oft-used coding procedures, as well as looping in functions, snippets, styling and plugin mods that help our client's web-based business applications. Basically we'll be making better code repositories.
At the same time, ChatGPT's ability to generate human-like text responses will provide a more personalized and engaging experience for our users. Whether they are looking for support, information, or recommendations, ChatGPT will be able to provide quick and accurate responses, 24/7.
Benefits for Our Users
By integrating ChatGPT into all of our services, we are providing a number of benefits for our users, including:
Faster response times: ChatGPT is always available to respond to user requests, providing faster and more efficient service than traditional human support.
More personalized experiences: ChatGPT's ability to generate human-like text responses will provide a more personalized and engaging experience for our users.
24/7 availability: With ChatGPT, our users will have access to support and information around the clock, even when our team is not available.
Looking to the Future
We are excited about the integration of ChatGPT into all of our services, and we believe that it will provide a number of benefits for our users and for our team. This is just the first step in our ongoing commitment to using the latest technology to provide the best possible experience for our users.
We look forward to continuing to provide the best possible services to our users, and we are confident that the integration of ChatGPT will play a big role in making that a reality.
Thomas C. Ossa
RockWeb Systems Inc.
Stony Point, NY 10980
(845) 877-7333